Addis Ababa is the beating heart of Ethiopia and a melting pot of history, culture, arts, and crafts.
Nestled in the highlands bordering the Great Rift Valley, it's the commercial and cultural hub of the country.
It is also a magical portal to an ancient and mystical world with grand architecture, ancient Ethiopian art, prehistoric fossils, and fascinating traditional art.
The bustling, sprawling city, is packed with things to see and do – discover ancient relics; take in magnificent neo-baroque architectural landmarks; savor mouthwatering Ethiopian cuisine; and dance the night away with locals.
So, let's head to the city and explore some of the best things to do in Addis Ababa, Ethiopia in 2023.
1. Visit Lucy at the National Museum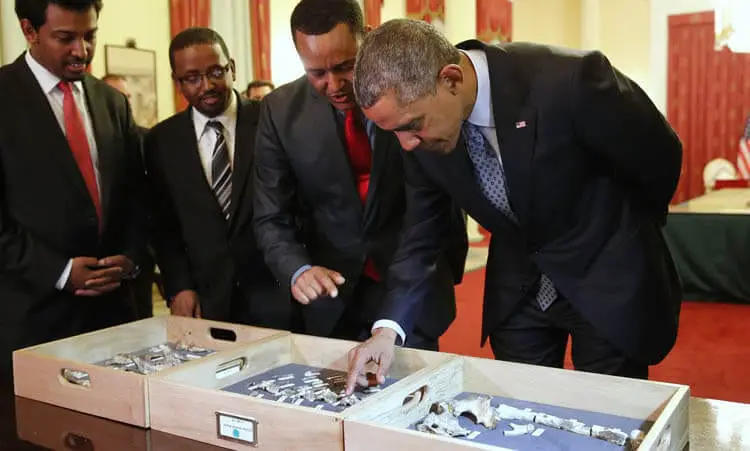 If you only have a short layover and a few hours in the city, discovering where human beings originated from with a visit to 'Lucy' in the National Museum is a must!
The 3.2-million-year old early hominid skeleton was unearthed in the far reaches of the Afar region of Ethiopia in 1974 and is thought to be an Australopithecus Afarensis, from which humans evolved.
After seeing Lucy, take a stroll around the museum to explore the rest of the collection, which includes precious stelae and statues from Axum, royal family memorabilia from the former emperors of Ethiopia, and famous works of art.
Location – The museum can be found at the junction of Hailae Maryan Mamo, Sahie Silase and Welete Johanis and entrance to the museum will cost you 10 Birr.
[viator tours="40378P3″]
2. Sip the World's Best Coffee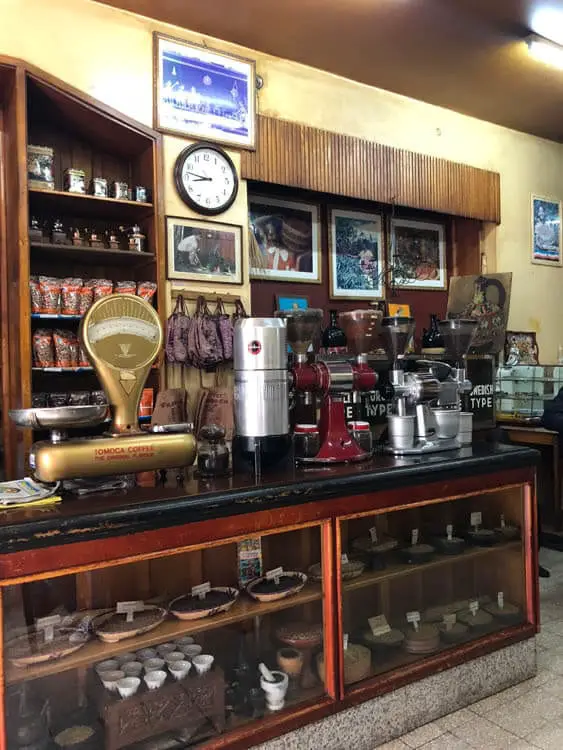 If you only have one day in Addis Ababa, don't miss tasting some of the world's best coffee!
Ethiopia is the land of the finest Arabica coffee, and you can grab a steaming mug of rich black coffee at any of the cafés, traditional coffee stalls, bars, and restaurants all over the city.
The rich brew is roasted by hand, ground using a mortar and pestle, and brewed in a traditional clay coffee pot known as a Jebena.
Location – Head to Tomoca Coffee Shop off Churchill Avenue, which is one of the city's first roasters and boasts a legendary status (Tomoca, Wawel St, Addis Ababa; +251 91 122 1412); or try another traditional favourite off Bole Road called Alem Bunna.
And be prepared to stay awake for a while – the coffee is strong!
[viator tours="40378P1,7626P162″]
3. Brave the Addis Mercato Market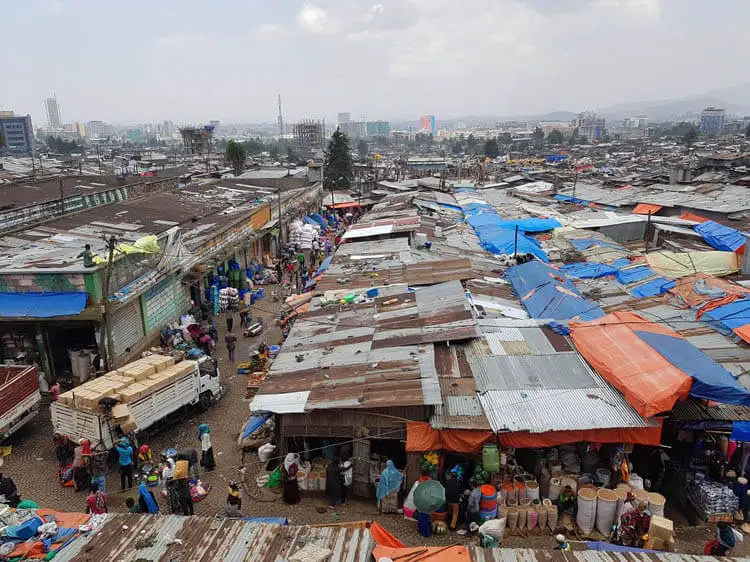 If you want to get a real feel for Africa, head to the Addis Mercato market, which is crowded, chaotic, and full of character.
Stretching for miles, it's one of the largest open-air markets in Africa and sells everything and anything you can think of.
Beware though – the market is notorious for pickpockets, so don't take any valuables with you and hide your cash.
4. Dance the Night Away at 2000 Habesha Cultural Restaurant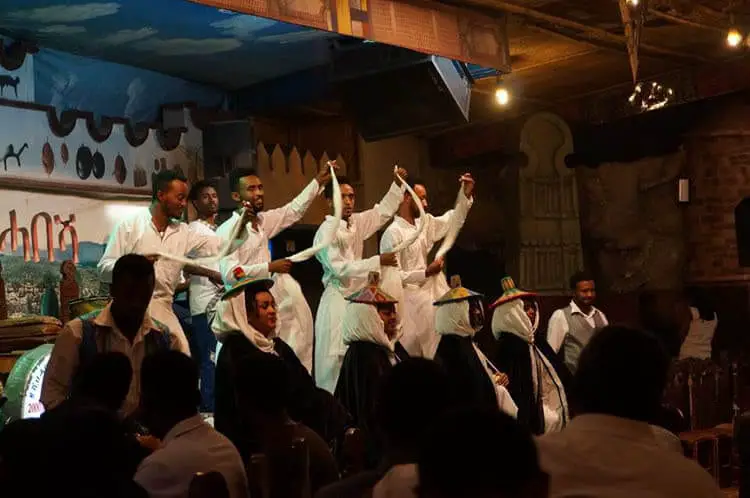 If you have a free night and are at a loss as to what to do, put on your dancing shoes and hit the town!
Ethiopians love to dance to their own music, and there is no better place to experience this than at the traditional Ethiopian restaurant 2000 Habesha.
Located in the Bole region of the city, 2000 Habesha is a vibrant, energetic spot that serves delicious local food, and hosts nightly live music, song and dance performances which draw jostling crowds.
It's a short ride by taxi from the Bole airport if you have a layover and it's guaranteed to be far more fun than hanging out in the airport!
5. Pay Your Respects at Haile Selassie's Tomb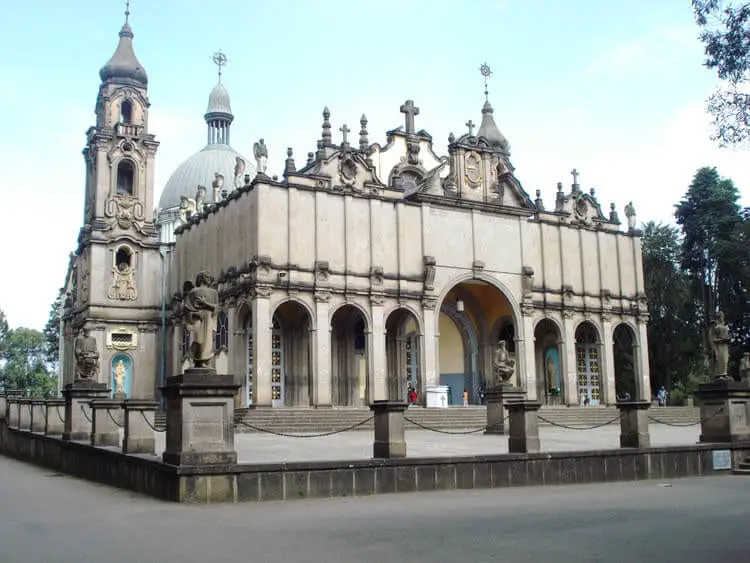 Another must-do when exploring Addis Ababa is to visit the tomb of the country's most famous leader – Emperor Haile Selassie and his wife, Empress Menen Asfaw.
The Aksumite-style granite tombs can be found at the Holy Trinity Cathedral, which is worth seeing itself for its magnificent neo-Gothic architecture and beautiful stained-glass windows.
Entrance to the cathedral and the section with the tombs is 200 Birr, and the cemetery outside is also worth a look – the iconic British suffragette, Sylvia Pankhurst is buried here.
[viator tours="13063P1″]
6. Journey Back in Time with a Visit to the Ethnological Museum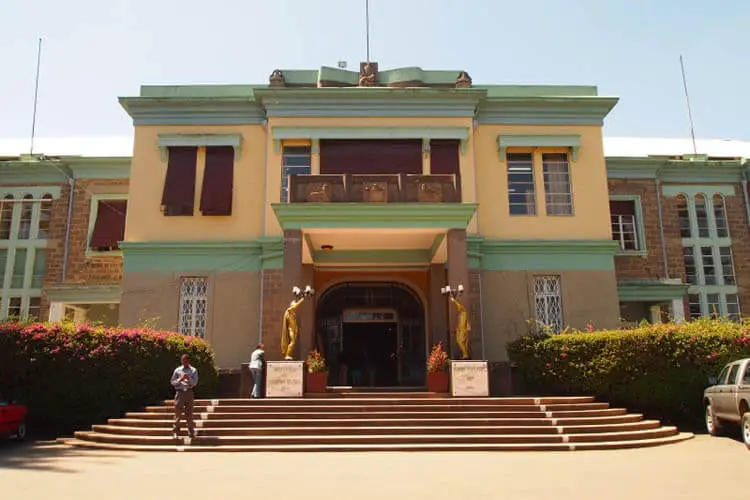 If you want to gain a better understanding of the cultural and social history of Ethiopia, then spend a few hours at the Ethnological Museum in Addis Ababa.
Set within Haile Selassie's former palace in the beautifully landscaped grounds of the city's main university campus (Algeria Street, Addis Ababa; +251 92 074 7162), the Ethnological Museum has an impressive collection of Ethiopian Orthodox paintings, triptychs, and Orthodox crosses.
The draw-card though has to be the double-decker London bus at the entrance, which was brought to the city by Haile Selassie and is now a bustling bar.
Grab a cold beer and have a chat with local art students before heading out.
Entrance to the museum will set you back 100 Birr (excluding your beers) and gives you access to both floors of some pretty impressive exhibitions.
7. Gaze Over Addis Ababa from Entoto Hill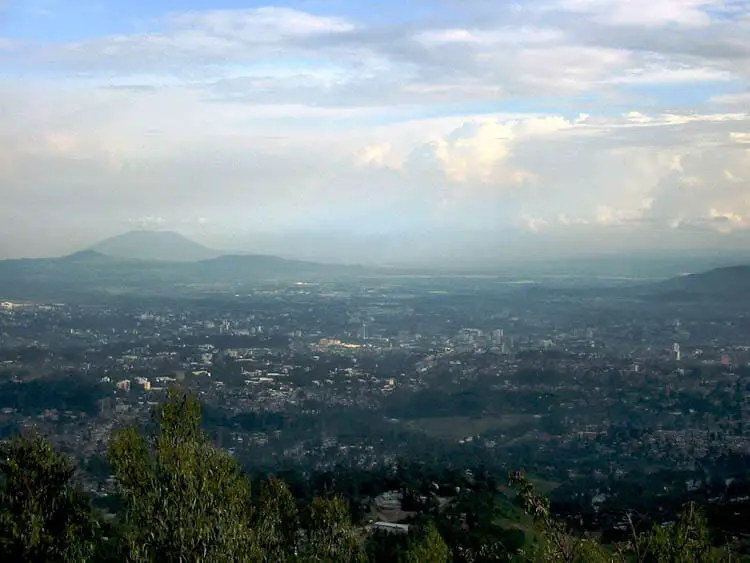 If you have the time, head to the top of Entoto Hill for some spectacular panoramic views of the capital.
Resting 3,200 meters above the city, Entoto Hill has some interesting sights, including remnants of Menelik II's Palace, and the beautiful Entoto Maryam Cathedral or St. Mary's Church.
On your way back down, stop off at the Shiro Meda market where you'll find an array of Ethiopian clothes and local crafts.
8. Dine Like a Local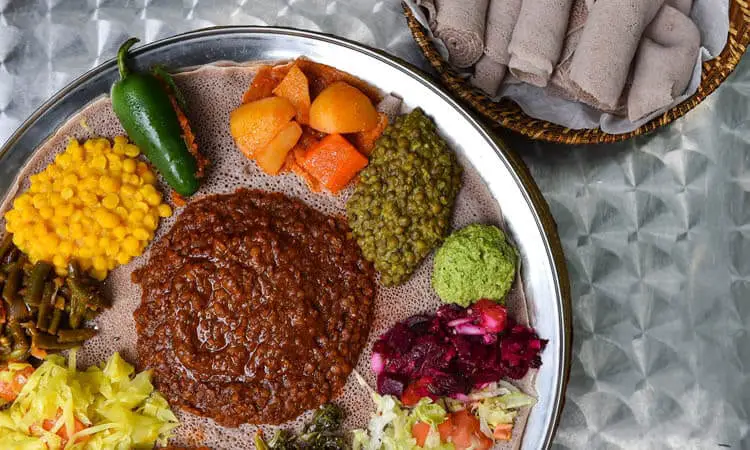 Whether you have one day in Addis Ababa or an overnight layover, trying the mouthwatering local cuisine is a must!
One of the joys of travelling is trying local tastes and flavors, and Ethiopia packs a punch when it comes to delicious local cuisine.
Tuck into Injera, Ethiopia's national dish and staple food, which is a great spongy pancake made from teff grain flour, fermented to become sour, and served with vegetables and sauce toppings.
Or try spice filled curries, vegetables, and lots of meat – all with your hands of course, like the locals do.
For some of the best Ethiopian food in town, head to Yod Abyssinia, which has an excellent reputation, but getting in on short notice is sometimes tricky. Or simply grab something on the go from one of the thousands of local eateries where the food is well prepared and couldn't be fresher.
[viator tours="57240P1,7626P162,7626P381,"]
9. Take a Moment at the Red Terror Martyrs Memorial Museum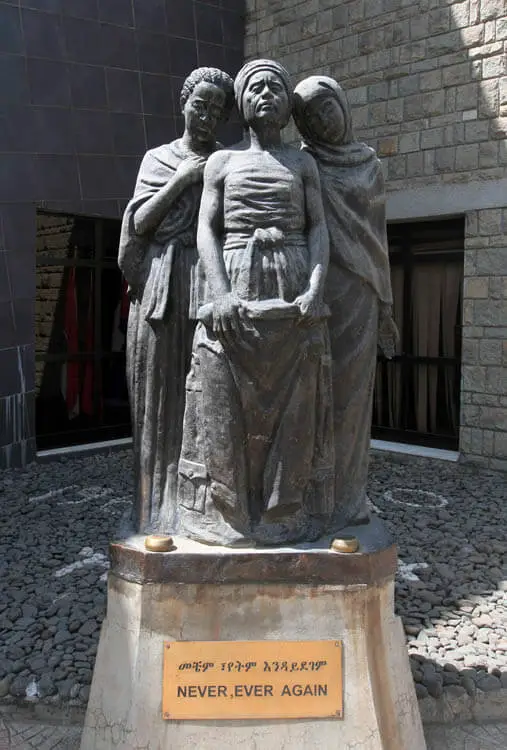 Take a moment to visit the Red Terror Martyrs Memorial Museum next to Mezscel Square, which tells the story of what life was like under the bloody Derg Regime in Ethiopia.
It's well-laid out and incredibly moving but be prepared for some haunting photographs and display cabinets filled with human belongings dug out of mass graves.
Excellent English-speaking guides are available, although this is one museum you may prefer to explore in silence.
The museum runs on a donation basis, so make sure you have some cash.
10. Witness the Power of St George's Cathedral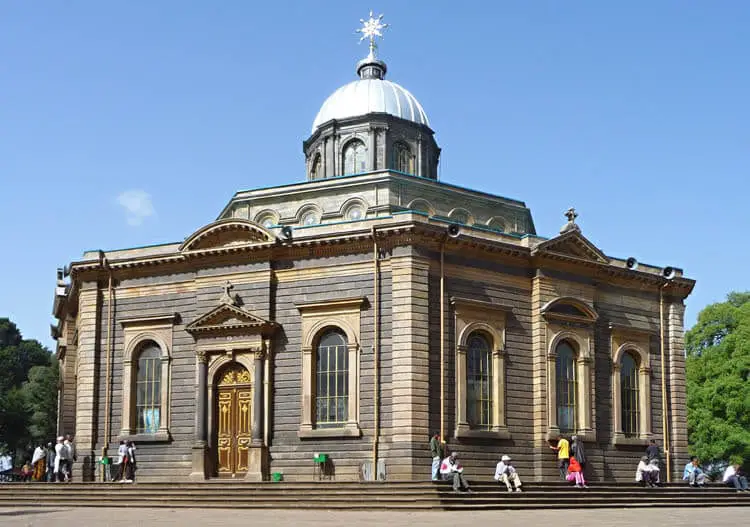 You don't have to be religious to enjoy the beauty of St George's Cathedral in Addis Ababa.
Located on the top of a hill, overlooking the Menelik II square, the church is built in a severe neoclassical style and traditional octagonal form and is quite impressive to see.
Inside is even better boasting a sky-blue ceiling with gilded stars and some incredible artworks, Ethiopian crosses, and the coronation garb of Zewditu and Haile Selassie who were both crowned here.
Entry is a 100 Birr and includes a guided tour of both the museum and church.
11. Take in Local Arts and Crafts at Fendika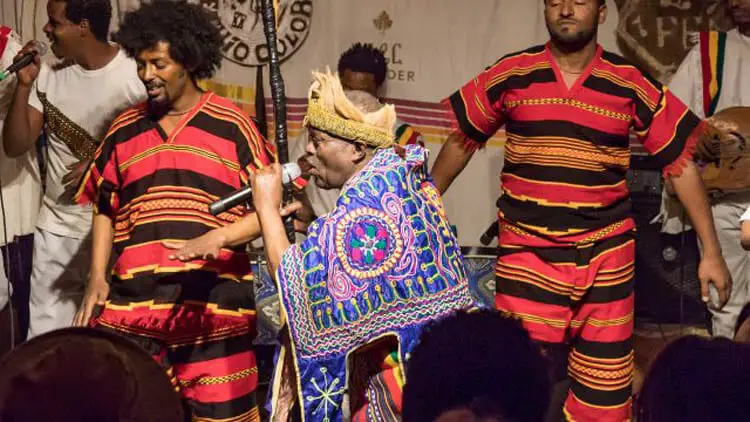 Immerse yourself in Ethiopian art and music with a visit to the azmari bet ('house of music') at Fendika.
Created by Ethiopian cultural and contemporary performance artist and pioneer, Melaku Belay, the artistic space is littered with Ethiopian cultural items and permanently occupied gallery spaces.
If you have a free Friday night in Addis, head here to enjoy live jazz and DJ-spun Ethiopian music with large crowds of locals who come to enjoy cold beers and great music.
If you have a stopover that includes some evening hours, head to the Itegue Taitu Hotel for some innovative and classical jazz. If you can't manage to catch a show, the club and hotel are worth a visit for their jazz-age vibe.
The La Gazelle Piano Bar near the airport is also well worth a visit.
12. Jog Around Meskel Square
Do as locals do when in Addis Ababa and head to the famous Meskel Square for a jog.
Named for the Meskel Celebration, a religious procession observed by the Ethiopian Orthodox community every year on September 28th, the city square is a gathering place for important events like festivals and political demonstrations.
After 4:00 pm it is packed with locals getting training and getting fit – a great way to stay in shape after all that delicious Ethiopian cuisine.
It's also a good point of reference for local transportation and for getting around the city.
13. Pay Homage to the Lion of Judah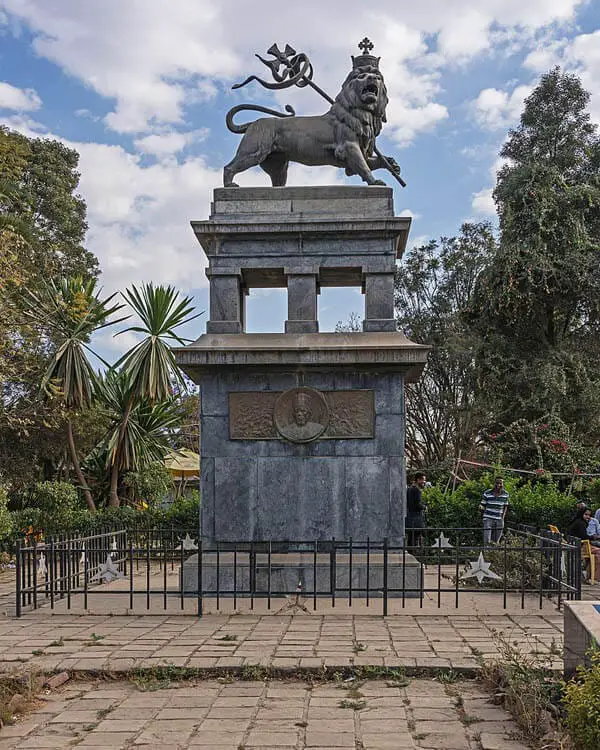 There are plenty of monuments and statues around the city worth viewing, but the Lion of Judah is the most impressive.
The symbol of Ethiopia's monarchy and Ethiopian pride, Statues of the Lion of Judah can be found in front of the old Railway Station and outside the National Theater.
The Lion of Judah Monument on the Churchill Street was erected during the reign of Emperor Haile Selassie I – the last King of the historic Solomonic Dynasty.
14. Explore the Back Streets of Addis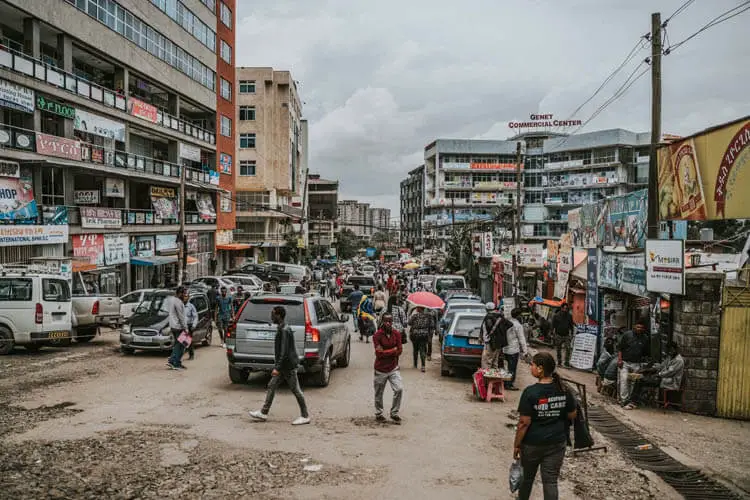 Explore a different side of Addis Ababa by taking a stroll around the back streets and the suburbs of the city like Bole, Kirkos, Meskel Flower, and Kazanchis.
The streets are lined with cozy sidewalk cafés, coffee shops, buzzing bars, and bustling restaurants, along with small businesses and enterprises, plus incredible photo opportunities.
It will also give you a good chance to have a chat with the locals.
15. Watch a Traditional Ethiopian Wedding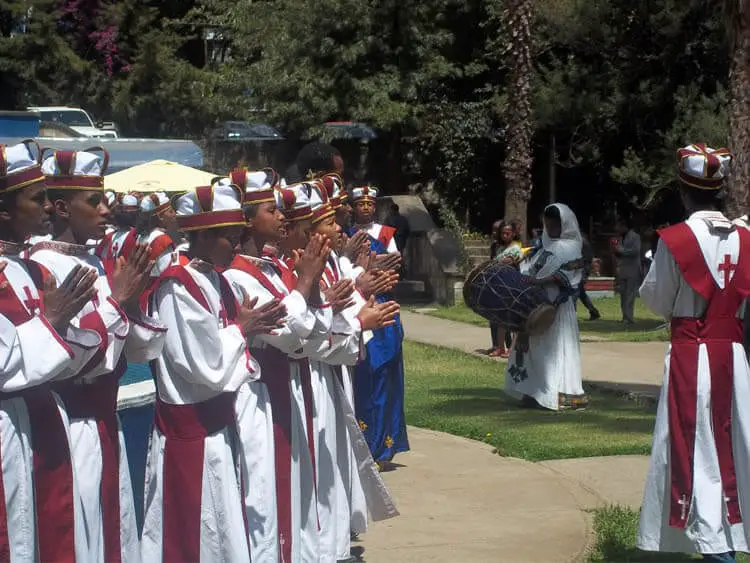 Something exceptional to do on a visit to the city is to watch a traditional Ethiopian wedding ceremony.
Head to the Ghion Hotel on Sundays where middle-class families celebrate their traditional wedding in true Ethiopian style with large drums and dances in the lush tropical gardens.
Beautifully dressed in traditional clothes, the wedding parties are large and convivial and draw crowds of onlookers who come to enjoy the celebrations.
16. Medhane Alem Cathedral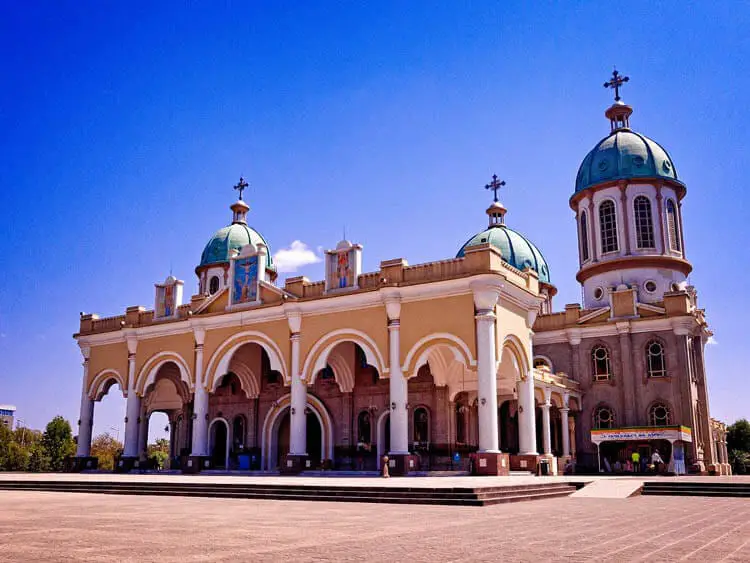 As there isn't much to do in Bole Airport, a short taxi ride will take you to the Medhane Alem Cathedral, the largest cathedral in Ethiopia.
Located in Bole Medhanealem, the Ethiopian Orthodox Tewahedo cathedral is worth a visit if you want to soak up some spectacular architecture complete with splendid domes and gentle archways and observe worshipers going about their daily religious routine.
Top Tip: Getting Around the City
Transportation into the city from the airport is usually via taxi or light rail, which is easy and reasonably inexpensive.
Take the light rail into the city (and back to the airport) and use cabs in the city to move around.
If you are heading out to explore Addia Ababa on a layover, plan for an hour in the traffic either way.