Airlie Beach remains one of the top tourist attractions on Australia's East Coast, and it attracts thousands of tourists and backpackers on a yearly basis.
The town is tiny, and it's only home to just over 1,200 people. With that said, the town is full of incredible attractions, vibrant nightlife, and wonderful hiking spots.
The most popular thing to do is to visit the Whitsunday Islands, one of the best tourist locations along the Great Barrier Reef. 
Airlie Beach is a fantastic location to visit all year round because of its subtropical climate. During the winter months, the temperatures are around 23 degrees celsius, but they increase into the 30's during the summer. 
So, let's check out our list of the best things to do in Airlie Beach, Queensland in 2023, one of Queensland's most popular tourist attractions. 
Best Things To Do In Airlie Beach, Whitsundays
1. Enjoy a scenic cruise around the islands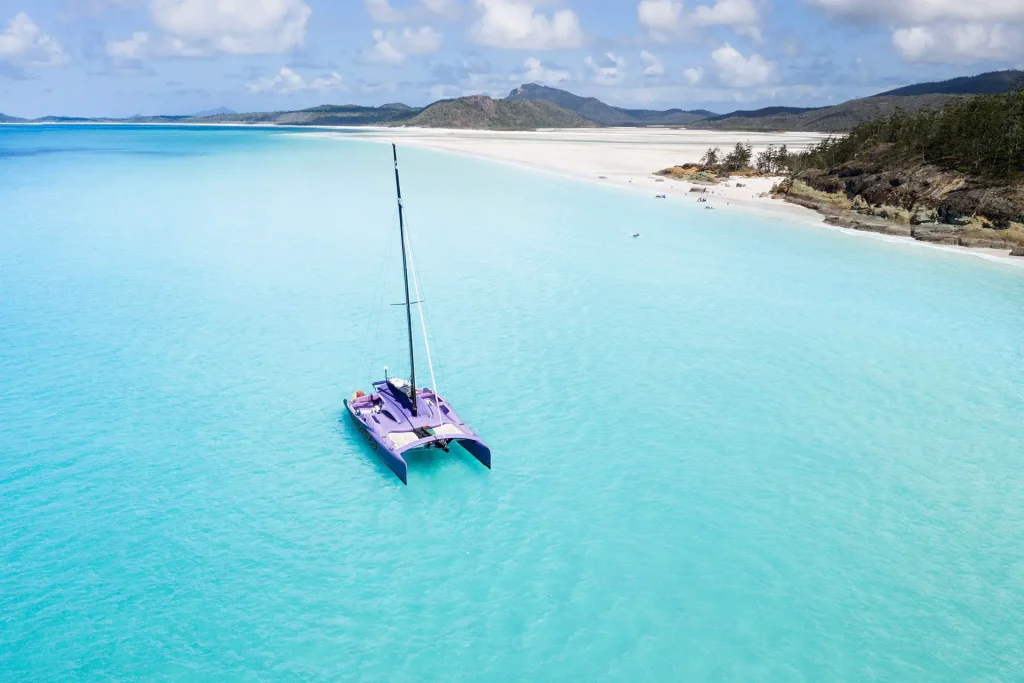 Looking for an amazing cruise experience? Look no further than the Whitsundays! This stunning region in Queensland offers some of the best cruising in the world.
A day trip cruise is the perfect way to explore the area and see some of the most amazing views in the area.
The turquoise waters and white sand beaches are unlike anywhere else in the world, and a full-day or half-day cruise allows you to explore more of the Whitsundays than you would be able to on your own.
To pre-book your seat, there are 2 options: Half-Day Cruise or Full-Day Cruise
Best Things To Do In Airlie Beach, Whitsundays
2. Speed over the ocean on a thrilling rafting ride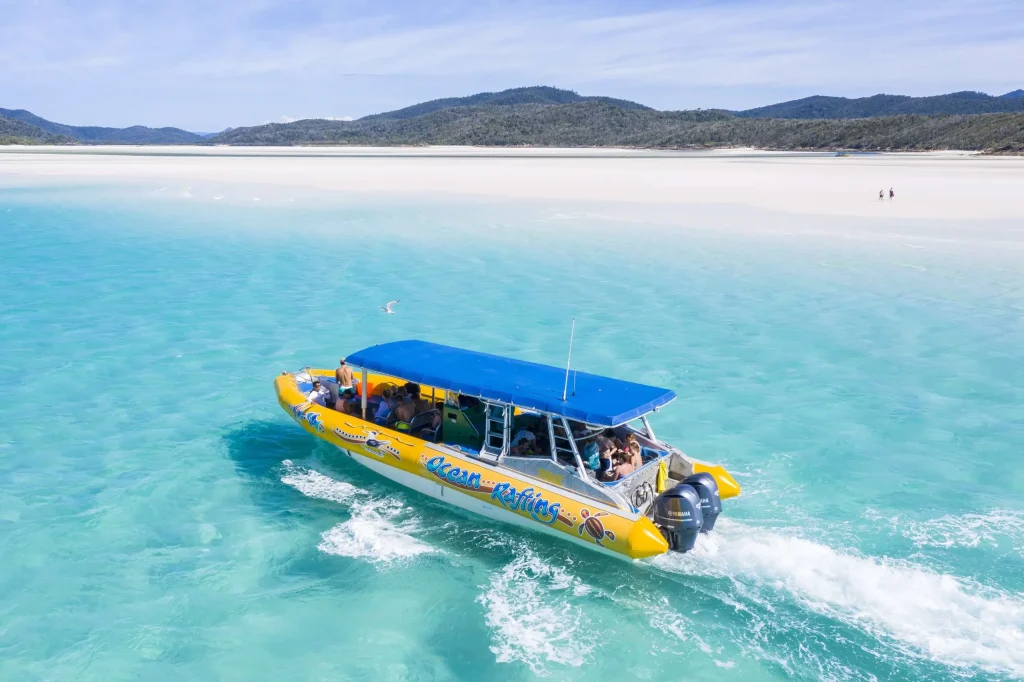 If you're looking for an action-packed day out, then the Whitsundays Ocean Rafting tour is definitely for you!
You'll get to experience some of the best bits of the Whitsundays, including Whitehaven Beach and the Hill Inlet Lookout. Plus, you'll also get to go snorkelling in the crystal clear waters – how could you say no?
If you're worried about getting seasick, don't be! The tour guides are experienced and will make sure that everyone is comfortable on the raft.
Plus, there's always the option of taking a break on one of the many deserted islands that you'll pass along the way.
So, what are you waiting for? Book your spot on the Whitsundays Ocean Rafting tour today!
Best Things To Do In Airlie Beach, Whitsundays
3. Take an epic flight over the Whitsundays
If you're not on a strict budget, you should take a flight over the Whitsunday Islands where you'll find incredible scenery.
During the flight, you'll fly over the world-famous Whitehaven Beach, countless islands, and the outer Great Barrier Reef. You'll also capture a glimpse of the incredible romantic Heart Reef, which you can see splashed over many travel brochures and social media. 
Also, you'll have the chance to fly over Hill Inlet and see it in all its glory. Why not take the family for a flight? It will be one to remember!
Tickets for plane flights can be booked here: 1-Hour Whitsunday Islands Scenic Flight
Tickets for helicopter tours can be booked here: Whitsundays Fly and Cruise Helicopter Tour
Best Things To Do In Airlie Beach, Whitsundays
4. Relax on one of the World's Greatest Beaches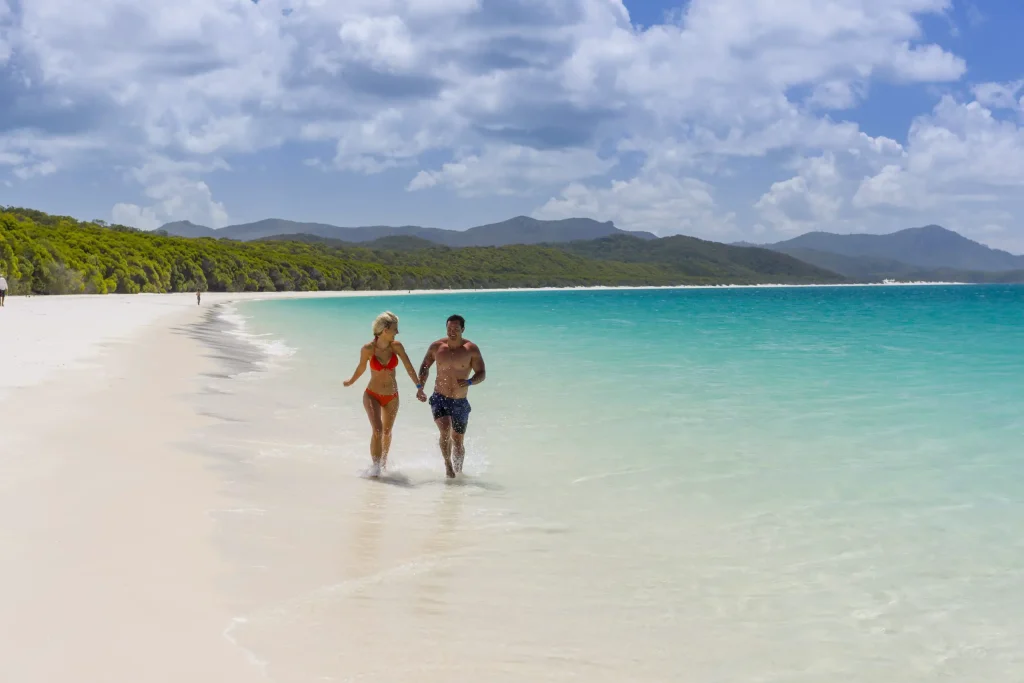 Airlie Beach is a getaway to one of the world's most beautiful and greatest beaches, commonly known as Whitehaven Beach. You can only visit the beach via a day tour, but it's home to incredible blue seas, snorkelling spots, and magnificent marine life. 
Moreover, you can visit the beach via helicopter or plane, and there are many of these tours running from Airlie Beach.
Although the beach is highly popular with visitors around the globe, you will have lots of open space because of the 7 kilometres of gorgeous sand and space. 
It doesn't matter what tour you decide to join at Airlie Beach, you'll have a stop at Whitehaven Beach.
Best Things To Do In Airlie Beach, Whitsundays
5. Check out the views from the largest island
If you're looking for incredible Airlie Beach views, you should check out Hills Inlet. You'll find Hill Inlet in the Whitsunday Islands, and it's the largest island out of all 74 islands. From the top of the island, you'll enjoy truly majestic views of the gorgeous seas. 
The best place to capture the views is at Tongue Point, where you'll find incredible views.
You can get to Hill Inlet from various day trips from Airlie Beach and Whitsunday Island. Many people will leave their boats in Tongue Bay before hiking up to the top. 
In addition, many overnight sailing trips will stop here. If it's something you'd love to see, make sure your tour from Airlie Beach includes this stop on its itinerary. 
Location: Hills Inlet Lookout
Best Things To Do In Airlie Beach, Whitsundays
6. Go skydiving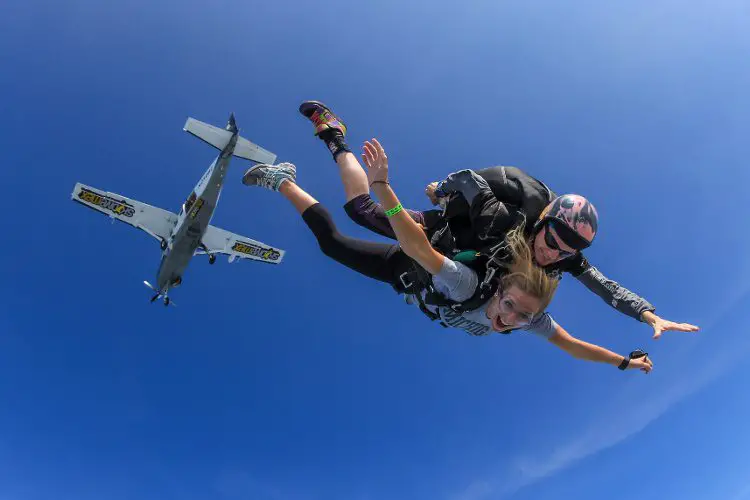 One of the most popular things to do at Airlie Beach is to go skydiving.
Many tourists and backpackers will choose this place to do the skydive when they're touring Australia's east coast, as the views of the Whitsundays and the Great Barrier Reef from up above are utterly majestic.
There are multiple tour companies to choose from, allowing to jump from various altitudes, including 15,000 feet!
Best Things To Do In Airlie Beach, Whitsundays
7. Hike the local trails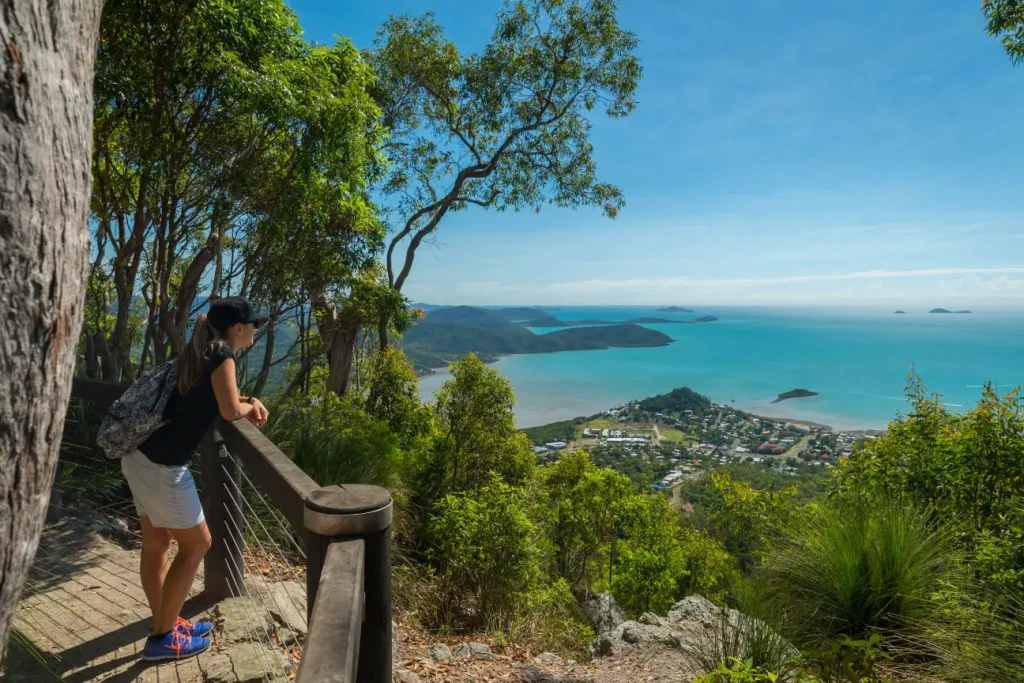 Many tourists will choose to relax around the pool during the summer months, but there are also some incredible hikes around Airlie Beach that are perfect for those looking for magnificent views. 
30 minutes drive out of Airlie Beach, the most popular hike is the Conway Circuit (formerly Whitsunday Great Walk) which is home to stunning views over Airlie Beach.
Not only will you get magnificent views of the beach, but you'll also capture the Whitsunday Islands and the Great Barrier Reef from the top. 
Besides, if you want to see some incredible local nature, you'll witness various unique local wildlife. The wildlife includes rare birds, monitor lizards, and yes, the occasional snake. With that said, the hike is very safe and one of the best things to do in Airlie Beach when you're not exploring the islands. 
Location: Conway Circuit, Brandy Creek QLD 4800, Australia
Best Things To Do In Airlie Beach, Whitsundays
8. Go swimming at Cedar Creek Falls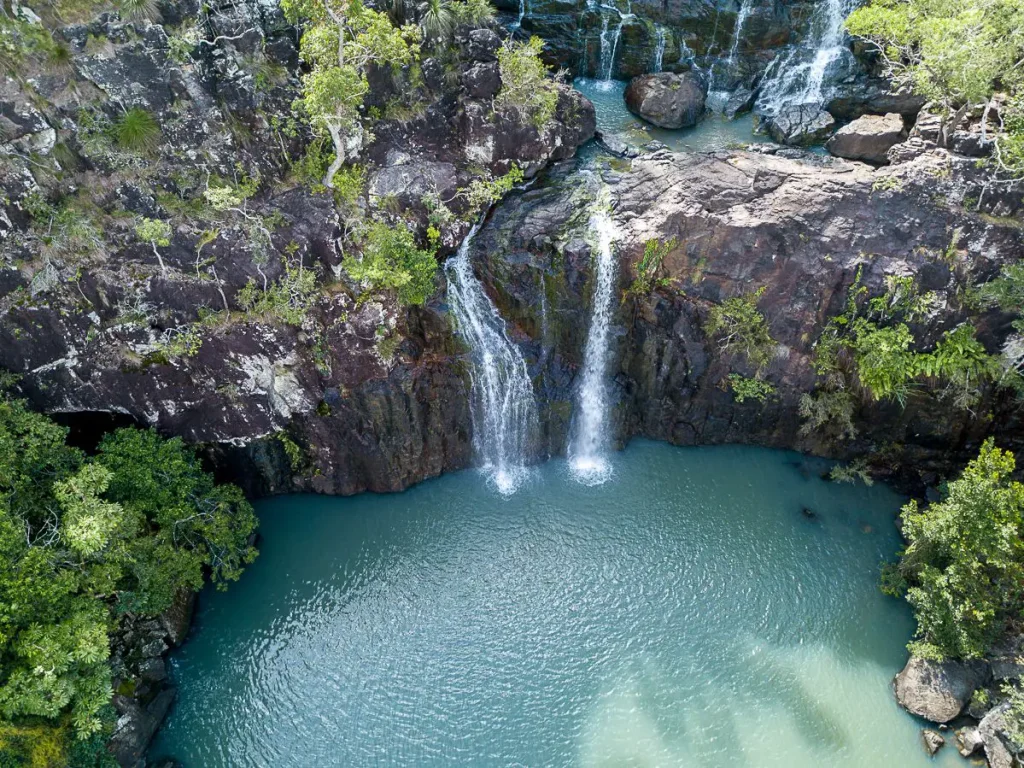 If you're looking for some idyllic waterfalls to enjoy, you should check out Cedar Creek Falls. The Cedar Creek Falls are within the incredible Conway National Park, home to some of Whitsundays most incredible nature!
The waterfalls are cold and perfect for a swim after a brutal hike around the surrounding nature trails.
Despite being such an incredible place to relax, these waterfalls remain rather quiet compared to the rest of the Whitsundays. 
The waterfalls are fantastic during the scorching summer months because they are safe and cool to swim, but during the winter months, there's a lot more rain in the area, so you'll enjoy more scenic waterfalls.
You might capture glimpses of lizards, turtles, and various fish species.
Location: Cedar Creek QLD 4800, Australia