Busselton is a must-see if you're in South West Australia. The town has a population of just over 25,000 people and is one of the most significant towns in the area. Visitors will like to know that Busselton was voted the top tourist town in Western Australia on three sperate occasions, 1995, 1996, and 2005.
And there is an excellent reason for this. The town is notorious for its gorgeous beaches, long history, and an array of cafes and bars.
So, let's check out our list of the best things to do in Busselton, Western Australia in 2023.
1. Visit the longest wooden jetty in the World, Busselton Jetty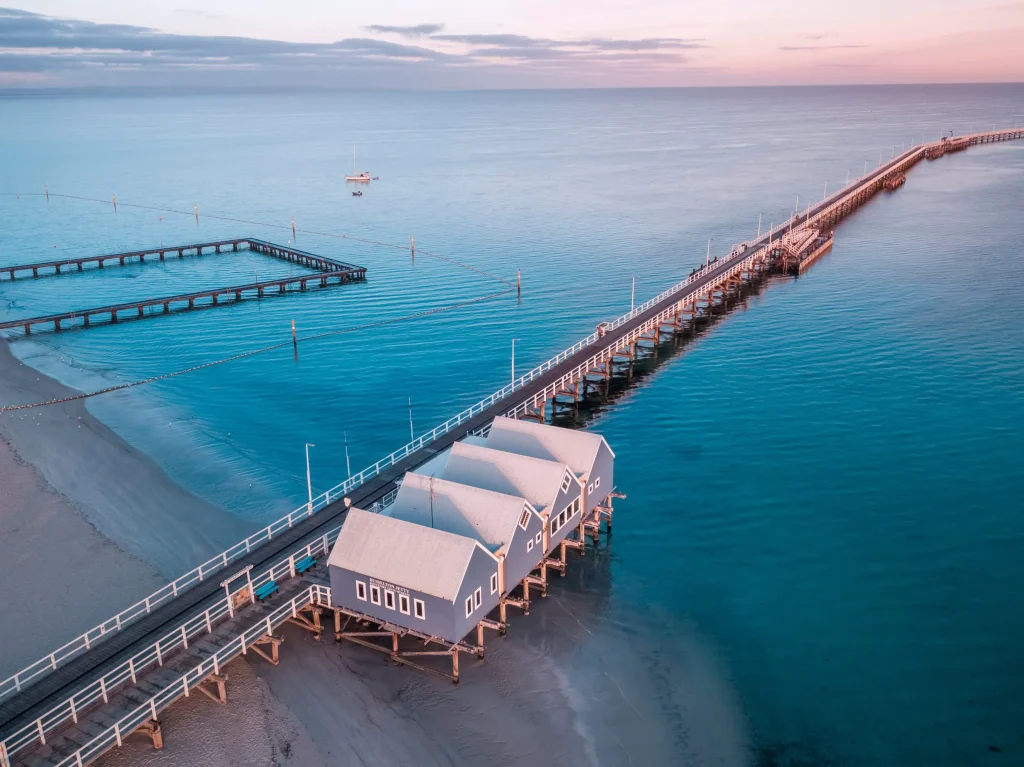 The Busselton Jetty is a must-see attraction in Western Australia. At 1.8 kilometers long, it's the longest wooden jetty in the world! The jetty was built in 1898 and is still used today for fishing and tourism.
There are plenty of reasons to visit the Busselton Jetty. For starters, it's a beautiful spot with amazing views of the ocean. It's also a great place for fishing, swimming, and kayaking. And if you're looking for something fun to do, the jetty has a amusement park with rides and games for kids of all ages.
So if you're looking for a fun and exciting attraction to visit in Western Australia, be sure to check out the Busselton Jetty!
Location: 3L Queen St, Busselton WA 6280, Australia
2. Zipline through the forest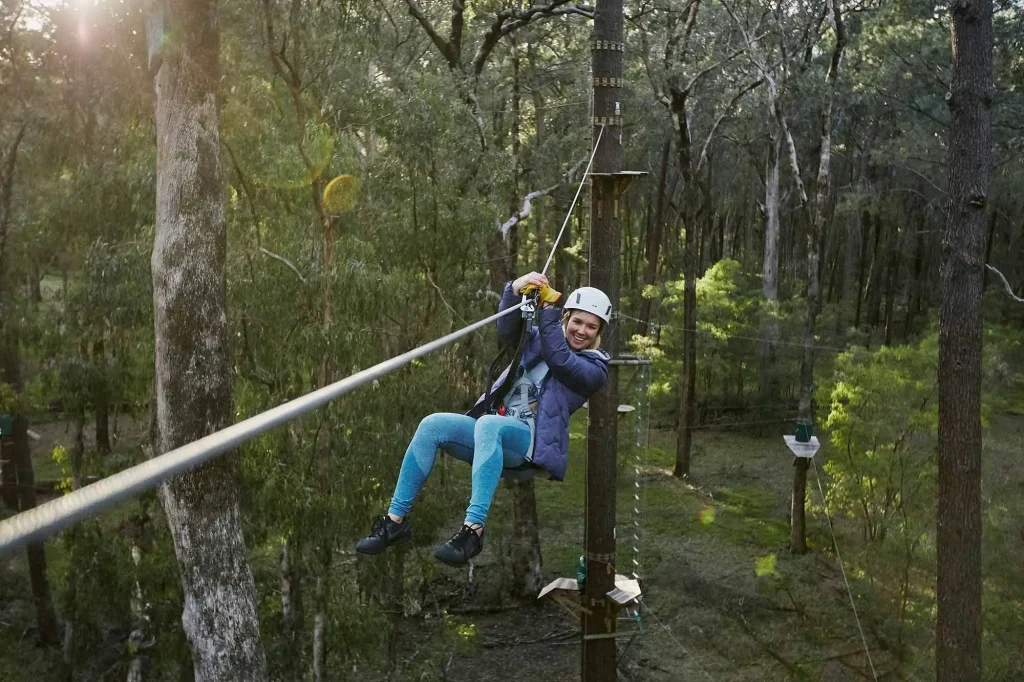 If you're looking for a fun day out with the family, Forest Adventures South West in Busselton is well worth a visit. There's something for everyone here, from zip lines and aerial challenges to Segway tours and nature walks. You'll have a blast exploring the forest and taking on the challenges, all while enjoying stunning views of the surrounding area.
One of the best things about Forest Adventures South West is that it's suitable for people of all ages and abilities. No matter how adventurous you're feeling, there's something here to test your skills. If you're a beginner, there are plenty of easy trails to follow, while more experienced adventurers can take on the more challenging obstacles.
The staff are super friendly and helpful, so don't be afraid to ask for advice if you're not sure what to do. They'll make sure you have a great time during your visit.
So if you're looking for an exciting day out in Busselton, be sure to check out Forest Adventures South West!
Tickets can be pre-purchased here: Forest Adventures South West
Address: 12 Ludlow Park Rd, Busselton WA 6280
3. Go Whale Watching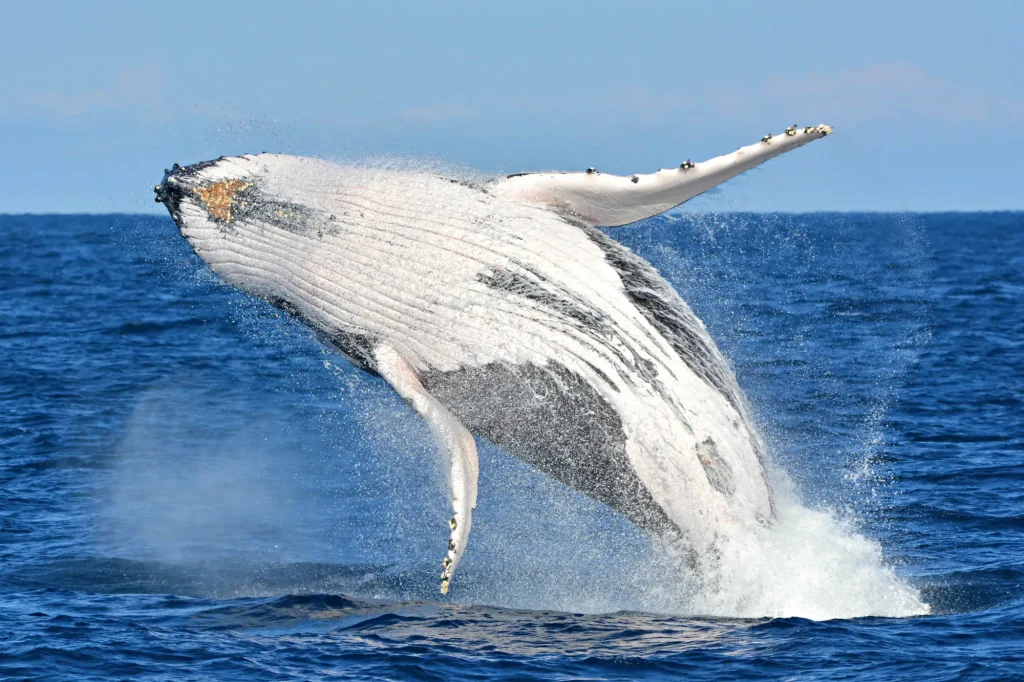 During the months of August to early- November, Whale watching in Busselton is a must-do activity for any nature lover. The area is home to an abundance of marine life, including humpback whales, southern right whales, and bottlenose dolphins. In fact, the region is considered one of the best places in the world for whale watching.
There are several operators in the area who offer whale watching tours, so you're sure to find one that fits your schedule and budget. Tours typically last around three hours, and provide you with ample opportunity to see these majestic creatures in their natural habitat.
In addition to whales, you may also see dolphins, sea lions, seals, and birds. The scenery is also beautiful, with rocky cliffs and lush vegetation lining the coast.
Tours sell out fast, pre-booking your tour is a must.
Tickets are available here: Whale Watching Tours Busselton
4. Visit Ngilgi Cave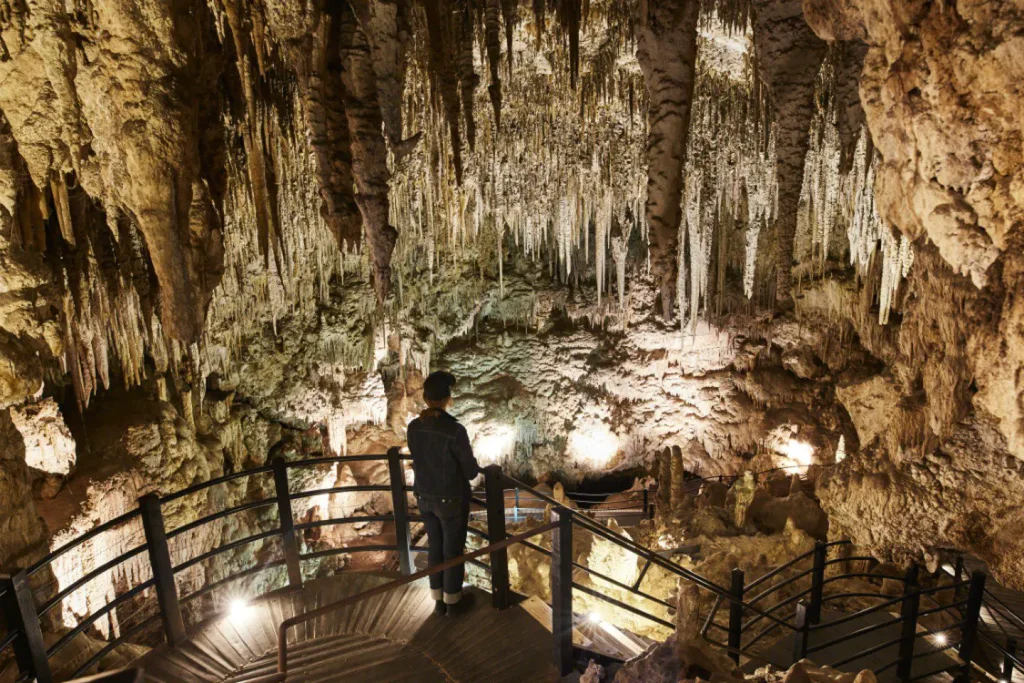 30 minutes drive from Busselton, Ngilgi Cave is a natural limestone cave located in Yallingup, Western Australia. The cave is open to the public and is a popular tourist attraction, with over 25,000 visitors per year.
The cave was formed approximately 500 million years ago and features a number of interesting geological features, including stalactites, stalagmites, and draperies. It is also home to a number of bats and other native wildlife.
The Ngilgi Cave is a great place to visit for anyone interested in geology or wildlife, or just looking for a unique experience. The cave is well-maintained and the staff are friendly and knowledgeable, making it an enjoyable experience for all visitors.
Tickets can be pre-booked here: Ngilgi Cave Tickets
5. Go back in time at Busselton Museum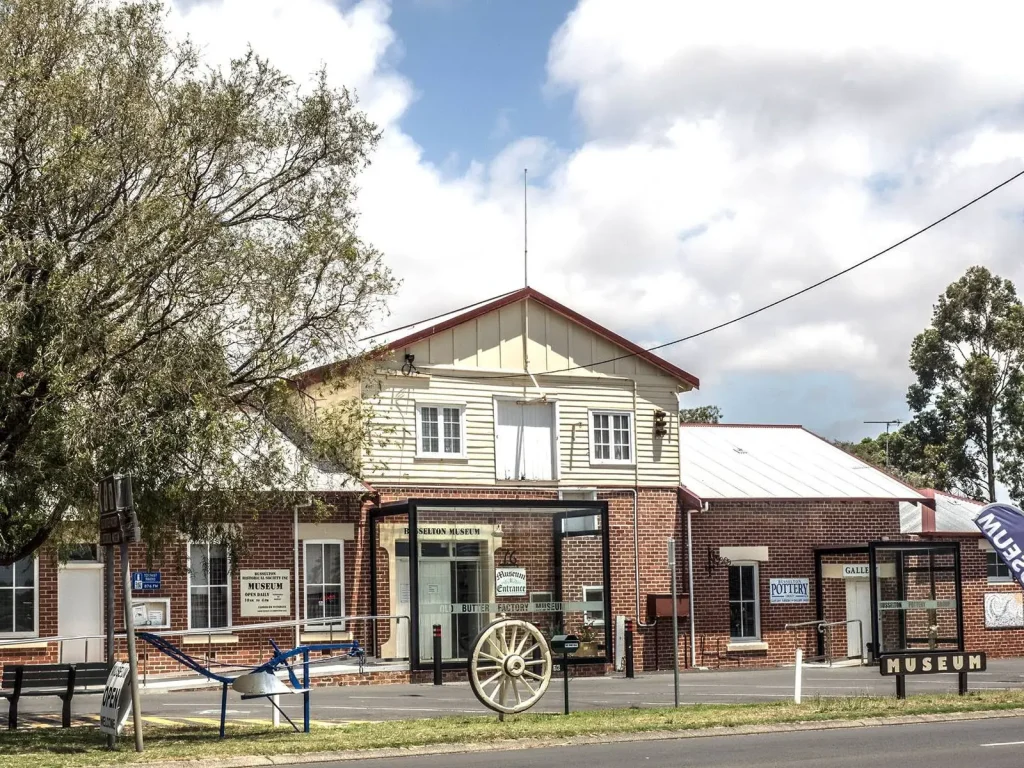 The Busselton Museum is a great place to learn more about the history and heritage of not only Busselton, but of Western Australia.
With a wide range of exhibitions on everything from the region's natural history to its Indigenous culture, it's the perfect place to get a taste of what this part of Australia has to offer.
Plus, with its location right on the waterfront, the museum is also a great spot for a leisurely stroll and some stunning views. So if you're ever in the area, make sure to add the Busselton Museum to your list of must-see attractions.
Address: Old Butter Factory Complex, Peel Terrace, Busselton WA 6280, Australia
6. Relax on Busselton Foreshore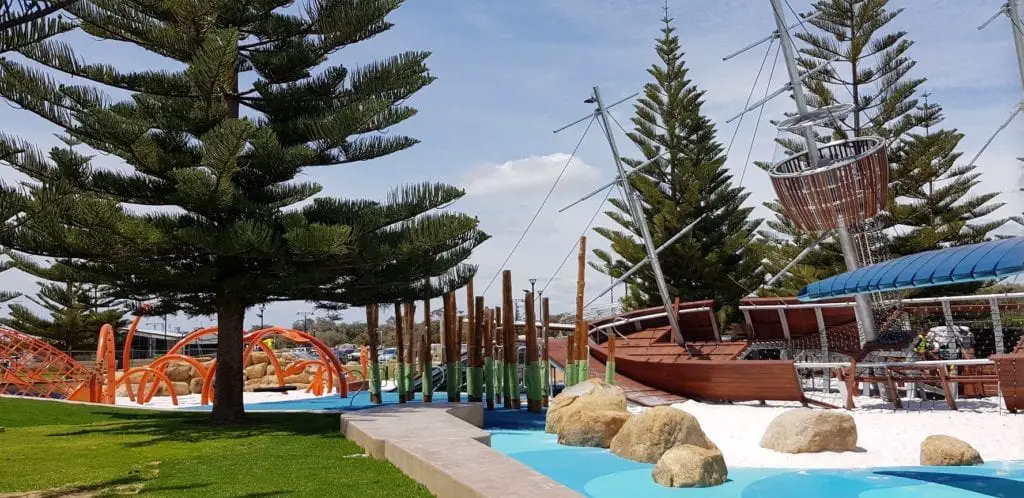 The Busselton Foreshore is a beautiful spot on the coast that offers plenty of activities and scenery to enjoy. Whether you're looking for a place to relax and take in the views, a spot to go swimming, or somewhere to enjoy some outdoor activities, the Busselton Foreshore is definitely worth a visit.
The beach here is wide and sandy, making it a great spot for swimming, sunbathing, and playing in the sand. The water is clean and clear, providing excellent swimming conditions. If you're looking for a place to take a walk or run, the foreshore is perfect, with plenty of well-maintained paths winding through the trees and along the coast. There are also several playgrounds and picnic areas located here, making it the perfect spot for a family outing.
The foreshore includes a public BBQ area, which is ideal for family and friends. It also consists of an adventure playground and cycling lanes which are great for the kids. Be sure to check out the Busselton Skatepark is you're on the foreshore too.
There are several places where you can rent kayaks or paddle boards, and there's also a great fishing spot located here. If you're into golfing, there's a golf course right on the edge of the foreshore that offers some stunning coastal views. And if you just want to sit back and relax, there are plenty of benches and chairs located throughout the area, making it the perfect place to enjoy a sunny day.
Location: Queen St, Busselton WA 6280, Australia
7. Take a Wine Tour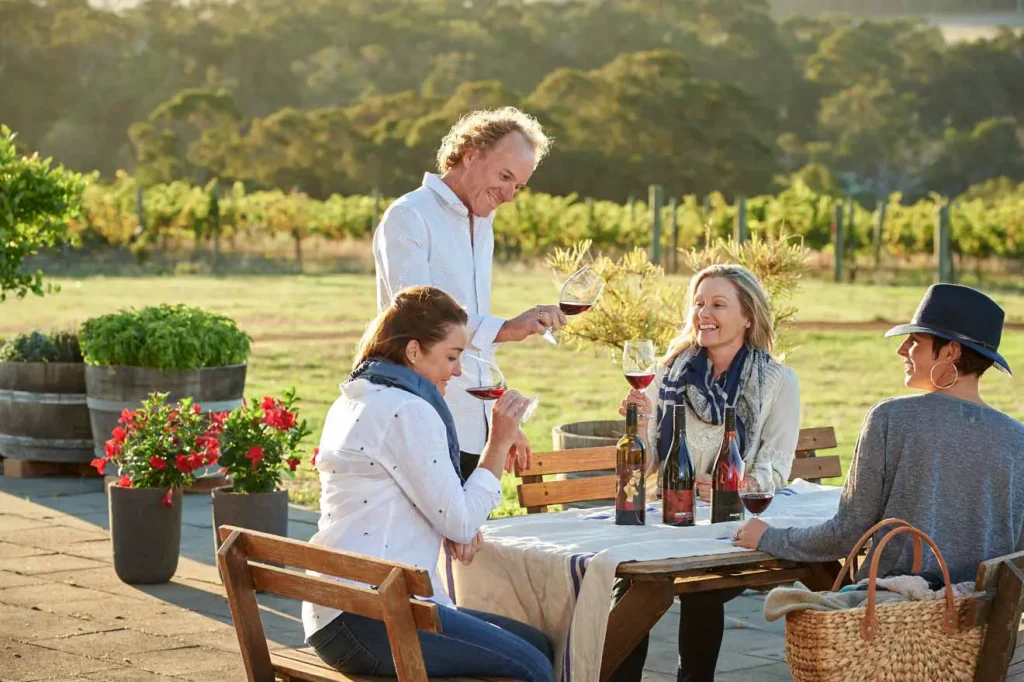 If you're looking for an excuse to visit Western Australia's beautiful Busselton region, look no further than its world-famous wine tours. There's no better way to explore the area's stunning wineries and vineyards than on a guided tour, where you'll learn all about the region's unique wine-making history and taste some of the best drops that Australia has to offer.
Busselton is home to some of the country's most acclaimed wineries, including Vasse Felix, Cape Mentelle, and Howard Park. With so much to see and do in the area, it's easy to see why wine tourism is one of the region's biggest draws. Whether you're a wine novice or an experienced connoisseur, a Busselton wine tour is sure to delight.
So what are you waiting for? Book your spot on a Busselton wine tour today and discover why this region is one of Australia's most popular wine destinations.
Half-day tours can be pre-booked here: Half Day Wine and Sights Discovery Tour Busselton