Stunning beaches and loads of activities await you just 2.5 hours north of Sydney in Nelson Bay, Port Stephens, NSW.
A popular vacation spot due to the variety of family friendly activities available to you on your next holiday.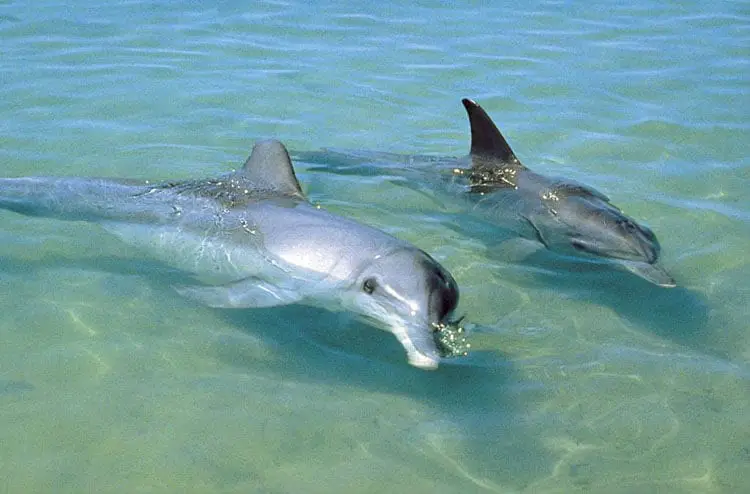 Nelson Bay, Port Stevens is quickly growing in popularity as more and more families realize what a treat a trip up north from Sydney can be. Both Australians and international visitors are adding this to their Australian bucket list.
So, let's check out our list of the best things to do in Nelson Bay, Port Stephens in 2023.
16 Best Things to Do in Nelson Bay, Port Stephens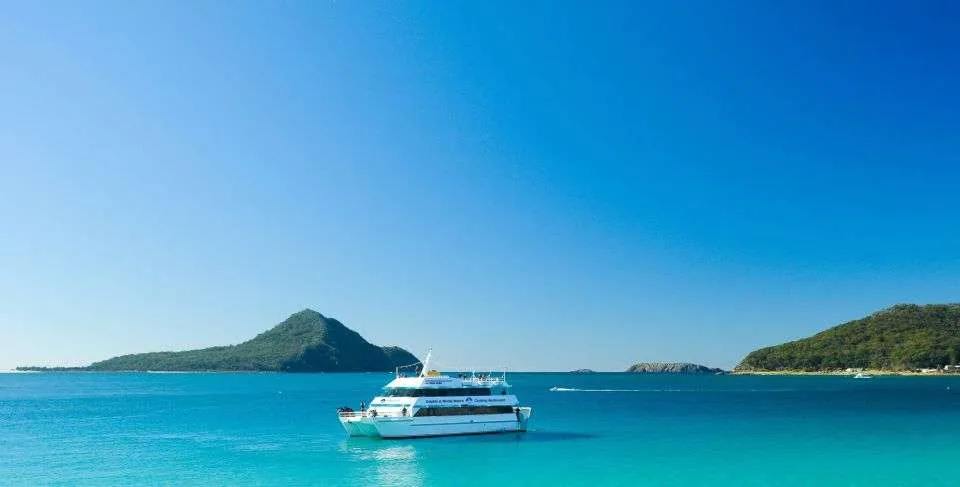 If you're looking for an unforgettable experience that combines the beauty of nature with a thrilling adventure, then the Dolphin Watching Cruise & Boom Net Experience at Port Stephens is for you!
Take in the views of the spectacular Tomaree and Yaccaaba Headlands as the captain of the boat provides entertaining and informative commentary along the way.
The 1.5-hour cruise is an excellent way to explore the area, and the boat is the biggest in the bay, making it the perfect vessel for your adventure.
If you feel like getting wet along the way, you have a chance to jump into the boom net and feel the ocean as you cruise along. Plus, there is a licensed bar on board for those who want to indulge in a little something extra.
However, you should remember to bring a towel, swimmers, sunscreen, and a hat for the summer months, as well as warmer clothes such as a jumper and beanie for winter months.
Best Things to Do in Nelson Bay, Port Stephens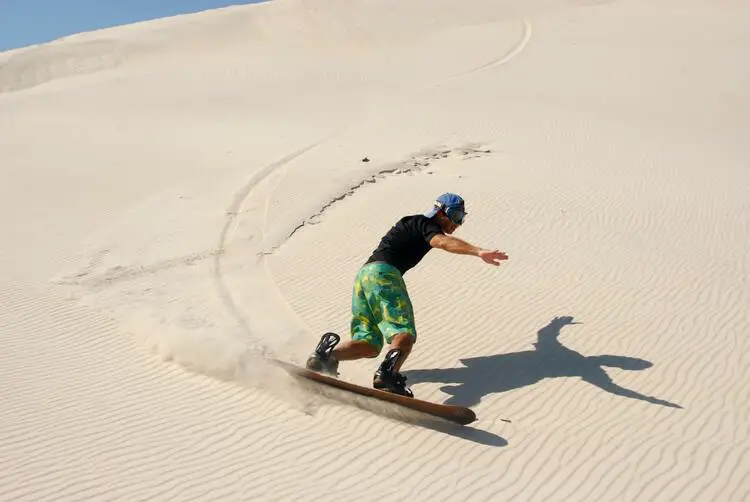 If you're looking for an adrenaline-pumping sandboarding experience, Nelson Bay is the place to go as the sand dunes here are some of the tallest in the area.
Port Stephens is a great place for beginners. The sand dunes here are smaller and more manageable, making it the perfect place to learn how to sandboard.
There are plenty of companies that offer lessons and tours, such as Port Stephens: Unlimited Sandboarding & 4WD Sand Dune Tours.
So whether you're a beginner or a pro, sandboarding at Nelson Bay or Port Stephens is a great way to spend a day in New South Wales!
Bookings can be made at:
Best Things to Do in Nelson Bay, Port Stephens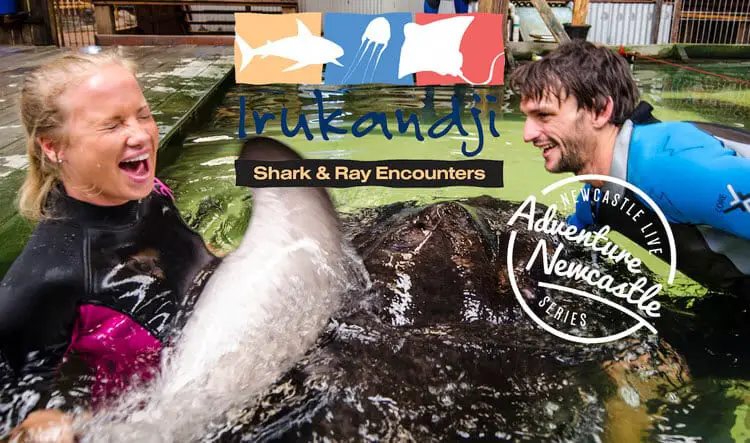 The Irukandji Shark & Ray Encounters, located on Bob's Farm (set to move to Anna Bay Oval mid-2021), allows you to (as the name suggests) create close encounters with sharks and rays. And even those who can't swim can use the center's resources to learn about how to protect these precious creatures.
The Irukandji Center aims to educate and raise awareness of the issues impacting the oceans.
Plus, it's a great activity to do with the kids when raining!
Tickets for a 2.5 hour session can be pre-purchased here:
Best Things to Do in Nelson Bay, Port Stephens
4. Ride a Camel
Playing in the sand isn't just for kids anymore! You'll find some of the Southern Hemisphere's largest sand dunes, and Australia's largest, at this National Park.
Stockton Beach offers a 32 kilometer span of beach you can drive with 4WD with a permit. And it's a lot more scenic than the inland road!
But even without a 4WD you'll find a short walk will take you to the scenic beach. Just park at Anna Bay Beach in Port Stephens.
You can even take camel ride tours.
Or for a nice shot of adrenaline, rent a quad bike or try out sandboarding. You can slide down the dunes on your own board or rent a board at Anna Bay if you don't have one of your own.
Playing in the Sand is a great thing to do with kids. Quad bike tours are available for kids over the age of 7 in the Sand Pit. All other tours are available to kids over age 12.
Best Things to Do in Nelson Bay, Port Stephens
5. Discover Australia's Best Underwater World

Port Stephens is one of Australia's best places for snorkeling and diving. And you can try your hand at either from shore, or from a boat.
The best dives from shore take off from Fly Point or Pipeline in Port Stephens. But beware, there can be a dangerous current and dives should be planned during high tide. You can see colossal sea hares, sea turtles, and Wobbegong sharks when you try these dive sites.
You may even get lucky and spot a dolphin!
You can also discover the underwater world off a dive boat. Check out the different islands nearby where you'll find Grey Nurse sharks, Port Jackson sharks, and seals.
There are many dive centers and tour operators which can help you plan your trip or rent equipment in Nelson Bay.
Best Things to Do in Nelson Bay, Port Stephens
6. Drink at one of Australia's Best Craft Breweries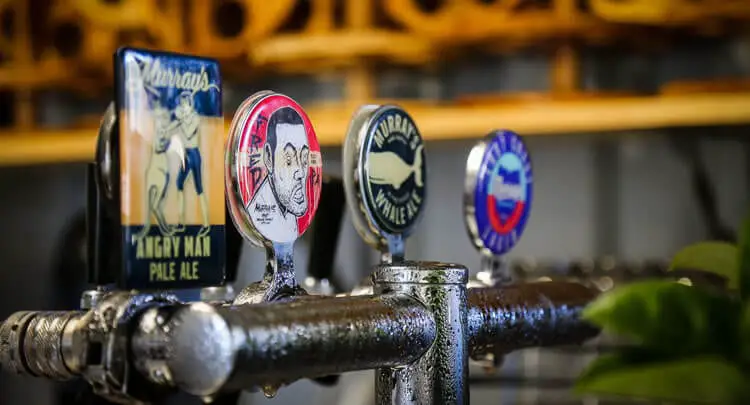 As one of Australia's best craft breweries, the famous Murray's Brewery is a great experience for those interested in trying a variety of beers and understanding the brewing process in more depth. Why not try Murray's Whale Ale.
You can even grab a shuttle so you don't have to drive when you go on the daily 2:15pm brewery tour.
They also offer wine tastings organized by the oldest winery and vineyard in the region.
Discover all Murray's has to offer on the main road in Bob's Farm.
Best Things to Do in Nelson Bay, Port Stephens
7. Try Out Different Water Sports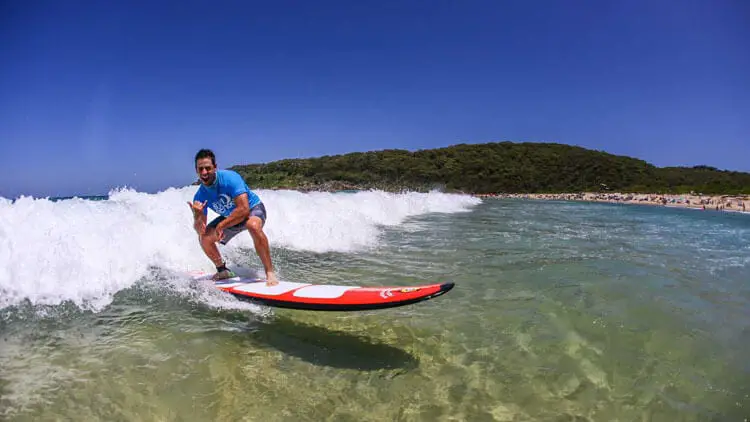 There are so many adventures to be had in the water of Port Stephens Bay.
Go on a luxury yacht with a glass of champagne on a gorgeous sailing cruise of the bay. Or try hiring a motorboat of your own to go on your own adventures with the family.
You can rent a paddle board at Shoal Bay. And you can find both kayaks and jet skis for rent at Nelson Bay. Nelson's Bay even has a fun waterpark installed every peak season!
There are even fabulous surfing beaches to be found in Port Stephens. Both One Mile Beach and Fingal Bay Beach have patrols while you can also surf at the unpatrolled Birubi Beach and Dutchman's Beach.
Best Things to Do in Nelson Bay, Port Stephens
8. Get Up Close with the World's Biggest Mammal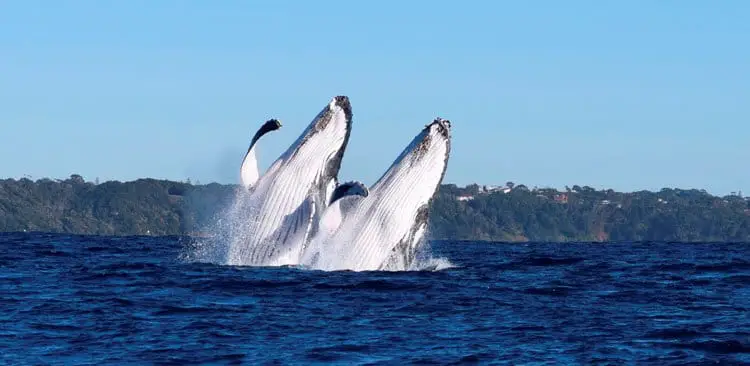 Whale watching is also a favorite activity in the Port Stephen's area. But unlike dolphins, whales are only spotted when it's "whale season" in May through to October as they migrate up the East Coast of Australia.
There's nothing like being on a boat out in the ocean when a whale breaches nearby. It gives you a true feeling for the size and magnitude of these giants mammals.
Plus, you will often find a tour will take a side trip to Cabbage Tree Island to see the seals!
Best Things to Do in Nelson Bay, Port Stephens
9. Meet the Soldier Crabs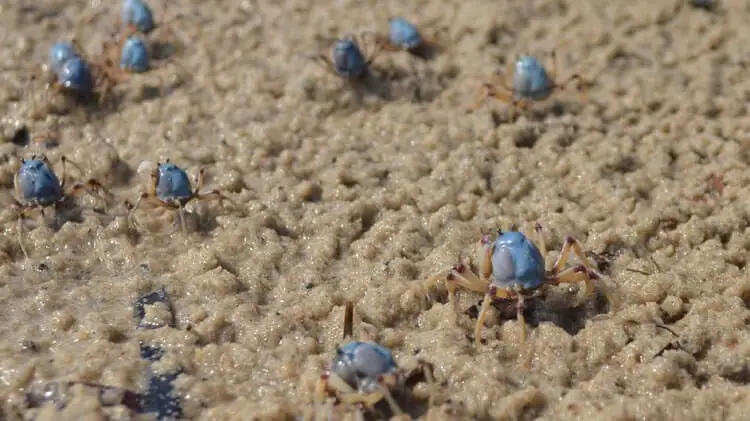 Every evening on the beaches of Port Stephens, thousands of soldier crabs come out to play at low tide.
Just go out to the beach and stand still – you'll soon be surrounded by hundreds of these little creatures!
But don't worry, just start walking up the beach again and they'll quickly scurry away to their hiding spots leaving you to walk the beach in peace.
Best Things to Do in Nelson Bay, Port Stephens
10. Enjoy the Fresh Local Cuisine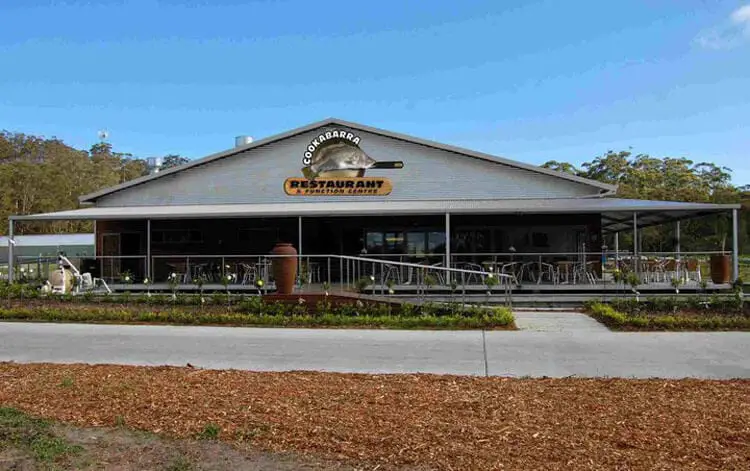 With Nelson's Bay marina restaurants receiving fresh seafood from the area every single day, the seafood in Port Stephens is unparalleled.
Grab a gorgeous seat right by the water and indulge in a fancy meal with fantastic views.
Catch at Shoal Bay, and The Anchorage in Corlette are two restaurants highly recommended.
If you love fresh Barramundi don't miss out on Cookabarra Restaurant in Bob's Farm. They have a hydroponic vegetable and Barramundi farm on site! Plus, if you plan your day right you can even take a tour of the farm daily from 11am – 2pm (and maybe go over to Murray's and take a brewery tour afterwards!).
Best Things to Do in Nelson Bay, Port Stephens
11. Discover Real Oyster Farming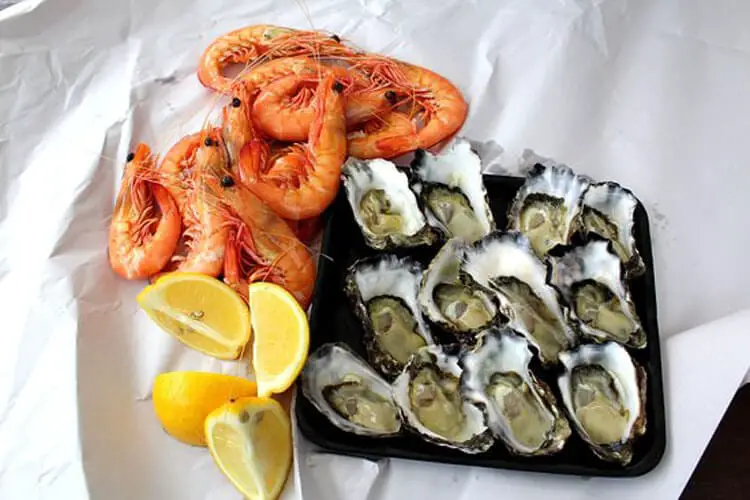 Holberts Oyster Farm is the place to go to watch professional oyster shuckers at work.
At this real oyster farm you'll see and enjoy what oyster farming is all about.
And right near the shop you can indulge in your love of oysters with a beautiful view of Salamander Bay!
Best Things to Do in Nelson Bay, Port Stephens
12. Go for a Bike Ride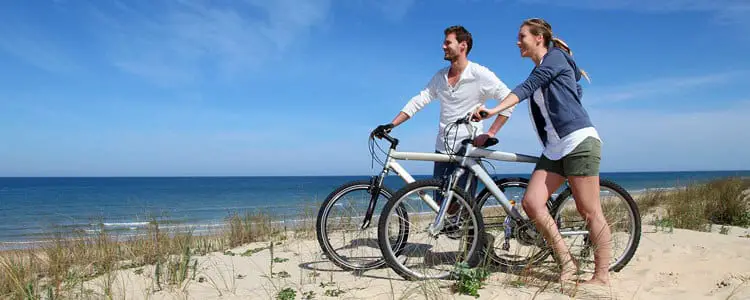 Both serious mountain bikers and recreational bicyclists will enjoy Port Stephens. There are paths available in the region no matter what your tastes are.
Take a coastal bike ride with scenic views from Fingal Bay, Shoal Bay, or Nelson Bay to Corlette. Or explore the National Park trails with a mountain bike to spot wildlife and get a great workout.
Plus, there are over 50 kilometers of cycleways available, mostly on quiet streets, making riding your bike in Port Stephens fun and safe.
Grab a water bike in Shoal Bay. Or rent a traditional bike in both Shoal Bay and Nelson Bay. There's even a 24/7 station now open where you can hire a bike in Nelson Bay.
Best Things to Do in Nelson Bay, Port Stephens
13. Visit a Wildlife Park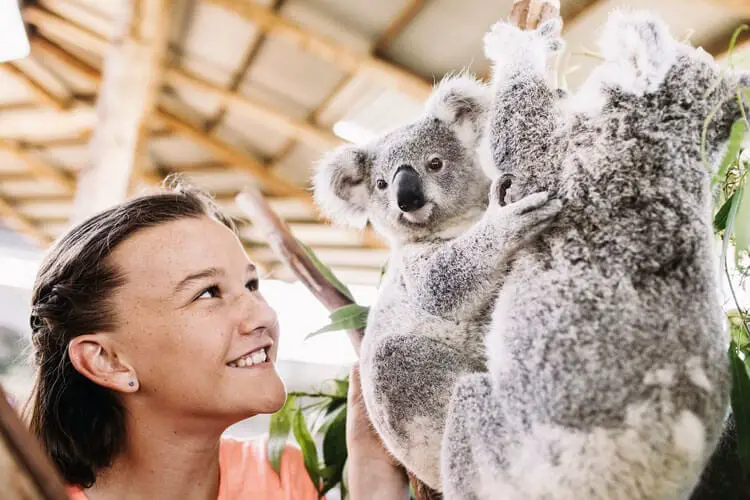 Oakvale Wildlife Park is popular with families year round, even in winter. But if you visit in the summer they have Splash Bay to cool off in. Located in Salt Ash it's a don't miss activity if you have kids!
There loads of fun waterpark activities to do with kids and to enjoy with your family in the Port Stephens Area.
And at the Tomaree Aquatic Center you'll find a toddler pool and a large slide for older kids.
Best Things to Do in Nelson Bay, Port Stephens
14. Splash Around at a Water Park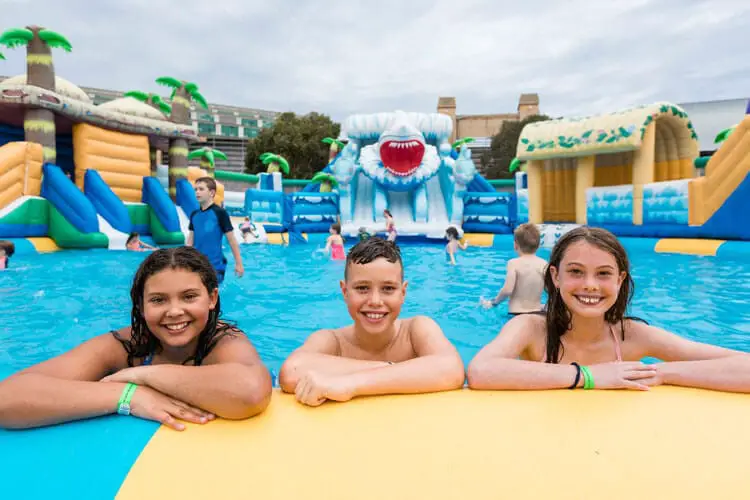 Waterworld Central is located on the road to Oakvale Wildlife Park and is an inflatable water park, open temporarily during a month for summer holidays.
Splash Waterpark is another temporary inflatable water park that's actually located in the water at Nelson's Bay. But again, it's only open during the summer months. So plan accordingly.
Best Things to Do in Nelson Bay, Port Stephens
15. Toboggan down a Hill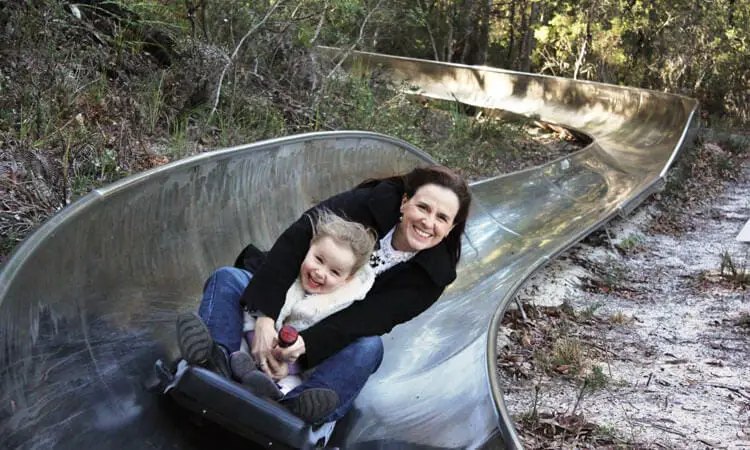 Full of family friendly activities good for both kids and adults, Toboggan Hill Park has rustic family entertainment for everyone!
With a range of activities for the kids you'll also find activities such as toboggan rides, tractor rides, and mini-golf.
Plus, there's indoor rock climbing and indoor ice-skating which makes this spot a great place to go for things to do when raining.
Best Things to Do in Nelson Bay, Port Stephens
16. Discover Indoor Family Fun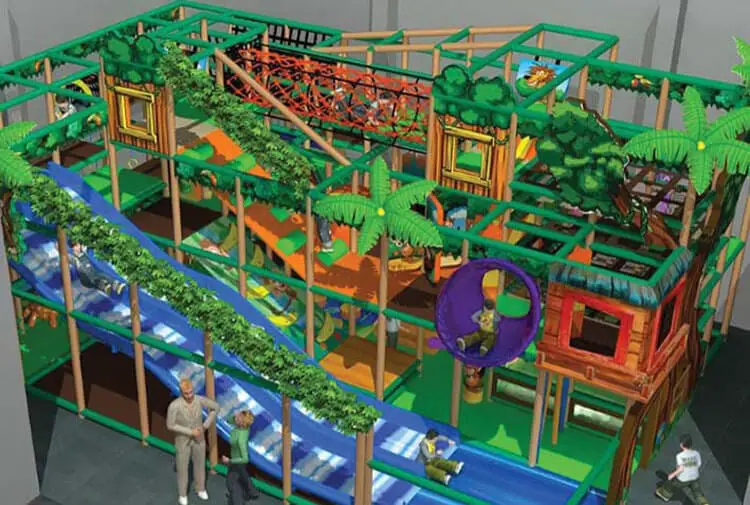 Try out a variety of golfing activities at David Grahams Golf Complex. There's a host of family friendly fun going on, so try out the mini golf, frisbee golf, a baseball batting cage, or even the golf driving range.
At Spirited – A Creative Play Centre you'll find a great rainy day activity that's family friendly for all ages with an indoor play center located on the road to Salamander Bay at Taylors Beach.
Plus you can always go bowling at Super Strike Bowling Alley. A perfect thing to do when it rains, the bowling alley features 10 lanes, air hockey, and arcade games.